Have you tried Universal Macarons?
Our Happy Customers Rate Them ⭐️⭐️⭐️⭐️⭐️
 We turn fun flavors from around the world into a Colorful Macaron. The only place you will find large macarons with real Belgian chocolates. Never Buttercream.
They Taste Amazing...
⭐⭐⭐⭐⭐
"Love love love Colorful Macaroons! But the owners are amazing and are what make it so special. They care about their customers and have a great social media voice. I love following them and are excited to see their business grow. And they taste amazing so thats a plus! They also do so many creative flavors that are so good!"
- Morgan Englerth
The Best
⭐⭐⭐⭐⭐
"The best macaroons I have try. She is amazing when taking orders and her husband its always on time to deliver and they both are always very nice. Best communication I ever had with a seller."
- Edith Nieves
I'm IN LOVE!
⭐⭐⭐⭐⭐
"I've been following Colorful Macarons on FB and Insta for awhile and love seeing all the posts. Finally got to try them today and I think I'm IN LOVE!! Absolutely delicious and super fun flavors! "
- Katherine Haldeman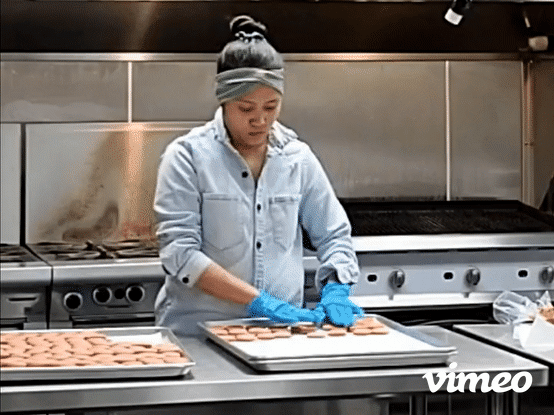 STEP 1
We Bake It
It's no secret that macarons are one of the hardest things to bake. We take our time and ensure that this delicate dessert bakes beautiful and fluffy inside. We only use high-quality almond flour, which is the base of every macaron shell. Did we mention all our Macaron shells are flavored too! 
STEP 2
We Fill It
A macaron shell is beautified with luxurious mouth-watering flavors from jams to custards, to ganache. Never buttercream.
We get creative! After it's been filled, It goes to sleep for 24-48 hours before getting ready for shipping, delivery, or curbside pickup.
This process is called "maturing". The filling softens the interior which gives it its signature bite. Not only does it taste good, but it's an experience you won't get from any other dessert.
Handmade
We are committed to the art and craftsmanship of baking delicious macarons. Our Macarons are made with extra love and care. Handmade macarons are the perfect indulgence for those who want to enjoy something delectable and aesthetically pleasing. If you are looking for something special, try our handmade macarons.
Quality Ingredients
Unique flavor combinations and rich chocolates are the hallmarks of our macarons. You can find quality ingredients made with naturally gluten-free almonds. We only use premium Belgian chocolates and fruit purees, we will never compromise quality for cost.
More Happiness
Our Macarons are 2 inches wide and 2 inches high! Which only means more happiness in your mouth. We've jam pack full and fluffy goodness into each macaron.  You can literally feel and taste the difference! 
Who are We?
Hello, our name is Crystal and Joe, owner of Colorful Macarons LLC. 
Crystal -I am the first person in my family born in the beautiful USA. I am Philippine and Hawaiian. I think that's a pretty cool story to tell. I was born in New York City and raised in Jersey City. Jersey City is the second most diverse city in the country. Joe and I was surrounded by a multicultural community where we learned to appreciate each and every culture. From the food, to desserts, to the language, to the culture.
Joe- I was born and raised in Jersey City. I am also a veteran of the United States Marines. In my years of service and after, I was an Aviation Tech Lead, servicing Ospreys, Helicopters, and Private Jets. The military was diverse but more importantly, unity was number one, which we are a huge proponent of. I'm also a dessert fanatic and we wanted to incorporate what we believed in into our dessert, thus creating the Global Macaron Box. We wanted to curate unique macaron flavors inspired by desserts found in different countries and then turn them into a macaron.
A macaron has two almond flour-based meringue shells that sandwich a ganache, buttercream, or jam filling. 

Do you use Ganache or Buttercream?

We only use Ganache in our filling with premium Belgian Chocolate, never buttercream. We believe that using chocolates imported from France delivers a far superior mouthfeel and enhances your macaron experience. We will never charge you a premium price for macarons filled with buttercream.

Will you have different flavors every month?

Yes, the beauty about Colorful Macarons is we have different flavors every month, including our fan favorites. You won't find macarons anywhere else that do Global Macaron Box. We take inspirations from different countries and turn them into a macaron

Is there a money back guarantee?

Unfortunately, because it is perishable we don't accept returns or do refunds. 

Are your macarons gluten free?

Most of our macarons are gluten free unless otherwise stated. Flavors like Cookie butter and Chocolate Dipped Cookie Butter are not Gluten Free.

How long does macarons stay fresh?

We usually recommend 3-5 days before it loses its quality and signature bite. We recommend putting them in an air-tight container and freezing them if not consumed immediately. Deep freeze macarons will last up to 12 months. Please allow the macarons to sit out at room temperature for approximately 30 minutes before consuming.

When will you ship my order?

Please allow 5 business days for processing. Prep, bake, and packaging time. We are working on minimizing our processing time with our continued growth. All orders will be shipped on Monday following. Thank you for understanding.

Do you offer customization?

At this moment we do not offer custom orders. This will change based on staffing.

What happens if I can't pick up my order within the time frame?

Unfortunately, due to short staff, we may not be able to accommodate other pick-up times. Please have a friend or family pick the order up. If there is an emergency, and you cannot find someone to pick up your order, please message us. This may be on a case-to-case basis. Thank you so much for understanding.

Will I be able to get a refund If I can't pick up my order?

We do not issue refunds on orders that have not been picked up. 

Where are you located? Do you have a store?

Colorful Macaron is located at 244 N. State street Ephrata pa 17522.