No Hollow Macarons - Delicious, Fluffy, and Crisp!
If you're looking for the perfect macaron, then look no further!
Our no hollow macarons are deliciously fluffy and crisp with a creamy Belgian chocolate filling. We are so confident in our technique that we guarantee each and every macaron is full and never hollow, so you can be sure you're getting the best experience every time.
Our hand crafted macarons are perfect for any occasion, and we know you'll love them just as much as we LOVE baking them!
What Makes a Good Macaron?
When it comes to macarons, quality is key.
A good macaron should have a crispy outer shell and a soft, fluffy interior. The delicate pastry should be free of interior air pockets or any other imperfections.
The filling should be creamy and flavorful, adding the perfect balance of sweet and tart to the overall flavor.
When it comes to quality macarons, attention to detail and precision are paramount.
At our bakery, we take great care in creating our
macarons. We source only the finest Belgian chocolate for our fillings, ensuring each one is creamy and smooth. Our recipes are tested to perfection before ever reaching the ovens, giving us the confidence that our macarons will turn out perfect.We also use a special technique to guarantee that our macarons are never hollow, ensuring you get a full, delicious treat each and every time.
THE RECIPE
Creating the perfect macaron is all about balance. The ingredients must be carefully measured to create a cookie that is both chewy and crisp. Our recipe starts with the simple ingredients of almond flour, powdered sugar, egg whites. We use dairy and non dairy fillings such as Pate de Fruit, custards and chocolates. We never use buttercream in our filling.
THE METHOD
The almond flour and powdered sugar are sifted together to ensure a smooth texture. Egg whites are whipped until they reach a glossy, stiff peak and then carefully combined with the dry ingredients. The batter is then colored if desired before it is piped onto baking sheets.
The macarons are then baked in a preheated oven until they have achieved a crisp exterior and light, chewy interior. We then fill the macarons with imported Belgian chocolates for an indulgent treat.
Finally, each macaron is hand-checked for quality and texture before being packaged and sent off to our customers or our pastry display case. Our attention to detail ensures that each macaron meets our high standards of excellence and satisfaction.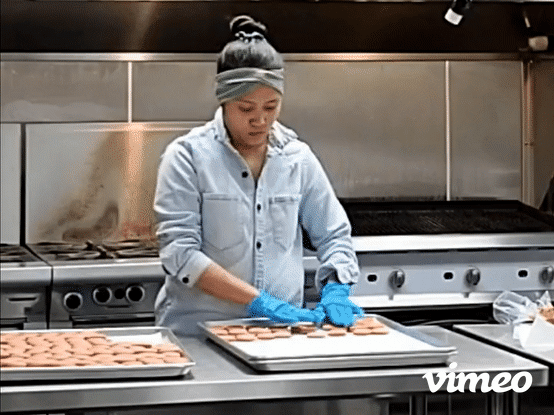 Making macarons is a labor of love and requires patience, skill, and the right equipment.
Once all of the ingredients are combined, the batter is transferred to a piping bag and piped onto parchment paper in small circles.
Then, the macarons are baked at a low temperature for about 15 minutes. This helps them to develop a crisp exterior while still maintaining their fluffy interior.
Finally, once cool, creamy Belgian chocolate flavored with fruit purees is used as a filling for each macaron. The two halves of each macaron are then pressed together to form a delicious, full, fluffy macaron.
When it comes to macarons, the result is what really matters.
Our technique ensures that each macaron is always full and never hollow, and we are so confident in our process that we guarantee a full, fluffy macaron every time!