Have you tried Universal Macarons?
Our Happy Customers Rate Them ⭐️⭐️⭐️⭐️⭐️
 We turn fun flavors from around the world into a Colorful Macaron.
Enjoy diverse macarons influenced by a new country each month.
Enjoy diverse macarons influenced by a new country each month.
Unique Macarons
Baked by hand in small batches, our macarons are infused with flavors inspired by popular fruits or desserts from around the world.
With our unique approach to pastry, we believe that our flavor combinations and decadent fillings are the hallmarks of a Colorful Macaron.
Experience the unparalleled indulgence of our macarons, unlike any other on the market. While most macarons rely on buttercream fillings that can leave a waxy residue in your mouth, our exquisite creations boast real ganache and pate de fruit gels. These unique fillings redefine your taste buds, offering a delightful sensation you've never experienced before.
Week after week, our macarons continue to sell out, a testament to their irresistible allure. And let's not forget to mention, our macarons are generously sized, ensuring every bite is a satisfying delight.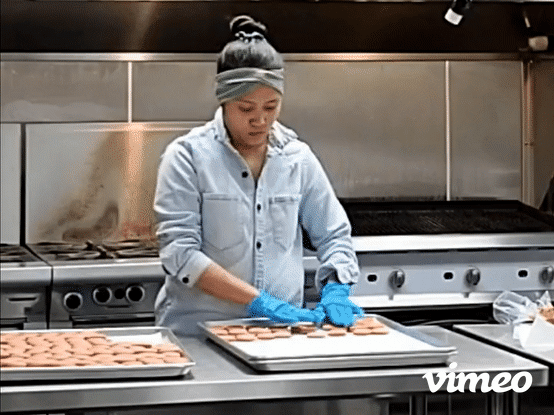 Truly Hand Made
It's no secret that macarons are one of the hardest things to bake. We take our time and ensure that this delicate dessert bakes beautiful and fluffy inside. We only use high-quality almond flour, which is the base of every macaron shell. Did we mention all our Macaron shells are flavored too!
Immerse yourself in the enchanting world of our macarons and become a part of our big dreams. With every purchase, you are not just savoring delightful treats but also playing a vital role in supporting a small business on its journey towards fulfilling ambitious aspirations.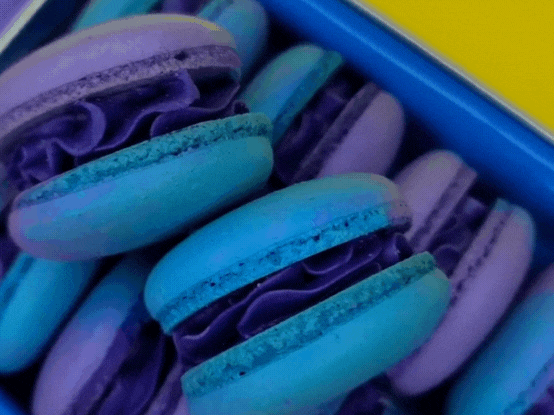 FILLING
A macaron shell is beautified with luxurious mouth-watering flavors from jams to custards, to ganache. Never buttercream.
We get creative! After it's been filled, It goes to sleep for 24-48 hours before getting ready for shipping, delivery, or curbside pickup.
This process is called "maturing". The filling softens the interior which gives it its signature bite. Not only does it taste good, but it's an experience you won't get from any other dessert.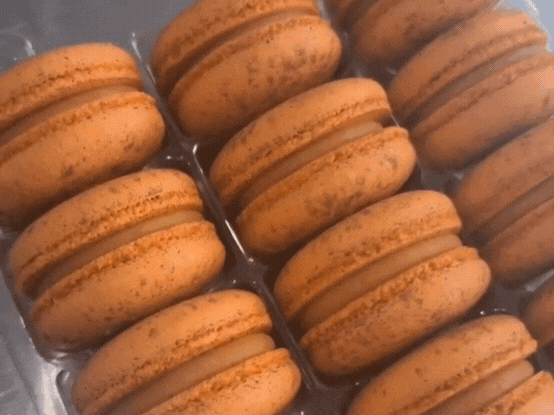 Adventure
Experience the joy of our delectable macarons delivered right to your doorstep, providing ultimate convenience and satisfaction. Alternatively, visit our bakery to personally select your favorite flavors and immerse yourself in the delightful aroma. Treat yourself or surprise someone special with the perfect gift. Order today for nationwide delivery or come to our bakery for an unforgettable macaron experience.
ANATOMY OF COLORFUL MACARONS
They Taste Amazing...
⭐⭐⭐⭐⭐
"Love love love Colorful Macaroons! But the owners are amazing and are what make it so special. They care about their customers and have a great social media voice. I love following them and are excited to see their business grow. And they taste amazing so thats a plus! They also do so many creative flavors that are so good!"
- Morgan Englerth
The Best
⭐⭐⭐⭐⭐
"The best macaroons I have try. She is amazing when taking orders and her husband its always on time to deliver and they both are always very nice. Best communication I ever had with a seller."
- Edith Nieves
I'm IN LOVE!
⭐⭐⭐⭐⭐
"I've been following Colorful Macarons on FB and Insta for awhile and love seeing all the posts. Finally got to try them today and I think I'm IN LOVE!! Absolutely delicious and super fun flavors! "
- Katherine Haldeman
A macaron has two almond flour-based meringue shells that sandwich a ganache, buttercream, or jam filling. 

Do you use Ganache or Buttercream?

We only use Ganache in our filling with premium Belgian Chocolate, never buttercream. We believe that using chocolates imported from France delivers a far superior mouthfeel and enhances your macaron experience. We will never charge you a premium price for macarons filled with buttercream.

Will you have different flavors every month?

Yes, the beauty about Colorful Macarons is we have different flavors every month, including our fan favorites. You won't find macarons anywhere else that do Global Macaron Box. We take inspirations from different countries and turn them into a macaron

Is there a money back guarantee?

Unfortunately, because it is perishable we don't accept returns or do refunds. 

Are your macarons gluten free?

Most of our macarons are gluten free unless otherwise stated. Flavors like Cookie butter and Chocolate Dipped Cookie Butter are not Gluten Free.

How long does macarons stay fresh?

We usually recommend 3-5 days before it loses its quality and signature bite. We recommend putting them in an air-tight container and freezing them if not consumed immediately. Deep freeze macarons will last up to 12 months. Please allow the macarons to sit out at room temperature for approximately 30 minutes before consuming.

When will you ship my order?

Please allow 5 business days for processing. Prep, bake, and packaging time. We are working on minimizing our processing time with our continued growth. All orders will be shipped on Monday following. Thank you for understanding.

Do you offer customization?

At this moment we do not offer custom orders. This will change based on staffing.

What happens if I can't pick up my order within the time frame?

Unfortunately, due to short staff, we may not be able to accommodate other pick-up times. Please have a friend or family pick the order up. If there is an emergency, and you cannot find someone to pick up your order, please message us. This may be on a case-to-case basis. Thank you so much for understanding.

Will I be able to get a refund If I can't pick up my order?

We do not issue refunds on orders that have not been picked up. 

Where are you located? Do you have a store?

Colorful Macaron is located at 244 N. State street Ephrata pa 17522.